Thursday, Feb. 11 - Saturday, Feb. 13, 2021
Area retailers will be providing wrapped chocolates as you visit their stores and shop for Valentine's Day and restaurants are having special chocolate drinks and desserts. Hot Deals will also be available at participating businesses during the Chocoalte Walk.  Get out and enjoy a sweet treat while you are purchasing a gift for your sweetheart!  What a great way to show your love for our small businesses.
Click on the below business names for more information on each participant.  These businesses will have chocolate samples available while you are shopping, while supplies last.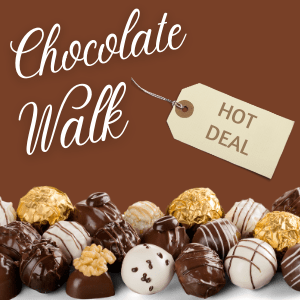 Hot Deals are being offered by many businesses during the Chocolate Walk. 
The below deals are available from Thursday, February 11 - Saturday, February 13.