The Conifer area is a charming mountain destination with an elevation of 8,277 feet, located along U.S. Route 285 and nestled in the foothills southwest of Denver. Here you'll find great restaurants, festivals, and outdoor activities like mountain biking, hiking, rock climbing, four wheeling, camping, cross country skiing, snow shoeing and sledding!
Stop in to the Chamber office to learn why Conifer truly is a great choice for visiting and making it your home!
Looking for Top Things To Do in Conifer, CO & the Surrounding area?
Then take a look at our "Top Things To Do in Conifer, CO" lists and we'll show you the best Conifer has to offer. Whether you're looking for a great place to eat, the next big concert or festival, community-minded tips, the best businesses to work with, or where to be in Conifer, CO when something's going on, we'll bring you front row to the action!
Conifer - Video by Thomas Jenkins
Conifer is located in unincorporated Jefferson County, Colorado. (There is no local government.) It is nestled in the foothills of the Colorado Rocky Mountains, 35 miles southwest of downtown Denver. Jefferson County has a nationally acclaimed K-12 school district and a highly educated workforce. There are a number of local elementary schools (West Jefferson, Elk Creek, Marshdale and Parmalee), West Jeff Middle School and Conifer High School. Residents and businesses have convenient access to higher educational institutions such as the Colorado School of Mines, Colorado Christian University, Arapahoe, Front Range and Red Rocks Community College.
Population count by zip code:
Conifer (80433) = 7,708
Pine (80470) = 3,922
Conifer has no mayor or city council.  All government business is handled through Jefferson County.
CLICK HERE for the Jefferson County website.
Studies show 50% of the population arrived since 1995, 75% since 1990.
The average income in 2016 was $120,943 and median income was $103,469. The median age is 48.8, compared to the U.S. median age of 38.
Jefferson County, Colorado: Conifer is part of Jefferson County, which once was agricultural and mining but now is a thriving suburban, business, industrial and residential community.
It is where the great plains meet the Rocky Mountains, with magnificent scenery. It enjoys 255 average days of sunshine a year. The coldest month of the year is January with an average temperature of 30 degrees. The hottest month is July with an average temperature of 74 degrees. The annual precipitation is 15.4 inches. The average annual snowfall is 60.3 inches. Average humidity is 40%.
City Water: We do not have city water in Conifer. Most people are on wells. There are a few housing areas (Kings Valley) that have their own water supply.
City Tax: 4.5% (Colorado: 2.9%, Jefferson County .5%, Conifer 0%, Special 1.1%)
Conifer began as Bradford Junction back in the mid 1800s as a wagon trail for people going to the mountains to look for gold. The official name of Conifer came in 1900 when a new post office was built. Conifer history is recorded in "The Upper Side of the Pie Crust" by Margaret V. Bentley or "Mountain Memories" by Betty Moynihan and Helen E. Walters.
Conifer Historical Society has articles, photos and interesting facts about the area.  Visit their website for more information.
History Of Conifer's 4-Legged Chicken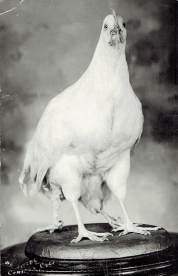 Walter E Fields, oldest son of George C & Theresia Fields of Conifer, Colorado, was a farmer in Johnstown, CO. A part of his farm activities was raising chickens and what a surprise he had the day a strange hatchling was there before his eyes. As he studied the chick closer, he discovered the new chick had 4 legs. What to do now?
In the late 1930's this was a seldom heard of occurrence. When the chick was about 6 months old (now a full-grown chicken) Walter took it to his local vet. Upon inspection, the vet informed Walter the chicken was not likely to survive.
With this news, Walter decided to have the chicken killed and stuffed. Not certain if his wife would let him display it in their home, he spoke with his mother, Theresia, and they decided the best place for it would be at the family store, Fields Trading Post located in Conifer. The chicken was placed on top of one of the store display cabinets and there it sat for years. Theresia eventually had a glass display cover made for it to protect it from dust and curious hands.
Family members remember the many persons who were amazed by the site on their visit to the store and it became the talk of the Conifer community. Even today, family friends and locals speak of their memories of the 4-legged chicken.
The chicken remained in the store on that cabinet until Theresia retired and moved. The chicken was moved back to Walter's home in Johnstown.  Eventually, Walter's oldest daughter laid claim to the chicken and moved it to her home in Weld County, but it will forever remain a Conifer marvel.