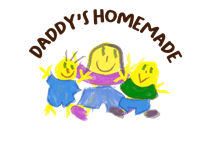 Daddy's Homemade, "Naturally, he knows best" is catching on as a locally homemade and healthier option for families
Dannie is a stay at home dad who wants the kids to eat healthier, especially during breakfast. So, he started experimenting with syrups - mixing, matching, and calculating all-natural ingredients and flavors. Our daughter is the pickiest eater, so when she approved the taste, we knew we were onto something. With the encouragement of Dannie's mom, we started giving it to friends and family to sample. They loved it, he loved making it, and from creating the labels to taste testing, the kids love being a part of the process.
For anyone following along from the beginning; you know how passionate we have become about what we are doing and how much we love to be able to include our family; environmental values as well as our work ethic into Daddy's Homemade and share this with our kids and community. To those of you who are just being introduced to Daddy's Homemade, let us share some of the reasons we have become so passionate about it.
Shop local and support local community: We all have more reason than ever to shop and support local. Not only do you get the personal touch and customer service you deserve, but you keep more money in our local economy. You can find unique products you could not find from large companies and you are reducing the environmental impact. Why not shop local?
No High Fructose Corn Syrup: High Fructose corn syrup is a sweetener derived from corn syrup, used to sweeten processed foods and drinks. The fructose in high fructose corn syrup can cause health issues and diseases if eaten in excessive amounts. It can increase your risk of obesity and weight gain and contains no essential ingredients. Avoiding high fructose corn syrup may be one of the most effective ways to improve your health and lower your risk of disease.
No Artificial Ingredients or preservatives: Artificial ingredients are synthetically produced. They are usually added to highly processed foods to improve taste and extend shelf life. They do not add any nutritional value and can lead to some health issues if consumed excessively. Daddy's Homemade products have a delicious taste and long shelf life without these unnecessary ingredients.
Unique flavors and sizes:

We recognize no two people in the world are the same so why only have a standard pancake syrup with limited flavor options? We provide choices to create a more fun and delicious experience. We also offer seasonal flavors so there will always be a new flavor to try depending on the time of year!

Multipurpose uses inspiring creativity:

Being just the right consistency, you can not only use it on your pancakes, waffles, and French toast, but it is amazing in your coffee and drinks; as well as on desserts and baked goods. Have fun either by yourself, with friends or family and make your own recipes! You can even surprise someone with something delicious they have not tried before and create some wonderful memories! We love hearing and seeing what new recipe our customers come up with next and how you like your Daddy's Homemade Syrup!

Sustainable packaging: Packaging represents a large portion of all the trash in the U.S. and will continue to increase as e-commerce increases. By using sustainable packaging, we are helping to reduce the use of resources and decrease our carbon footprint while also meeting growing consumer demand. More consumers are switching to brands that are more environmentally friendly to help do their part for the Earth.
Ready-to-blend breakfasts: Why not have the pleasure of getting to enjoy a home cooked meal without as much of the time and work?! Our jars of ready-to-blend breakfasts come complete with dry ingredients in the jar; wet ingredients needed to complete the recipe as well as instructions to making "Daddy's" favorite homecooked recipe! Pair it with your favorite Daddy's Homemade Syrup flavor (or try a new one) and you are off to an incredible day!
From our family to yours, we inspire the joy of creating kitchen memories through food, family, and fun by producing high quality, all-natural homemade syrups and ready- to-blend breakfasts while supporting sustainable packaging. So, if you have a favorite flavor in mind, we hope you take home a jar to share with your family.
If you would like more information feel free to reach out to daddyshomemadesyrup@gmail.com or visit our website www.daddyshomemadesyrup.com.
We can also be found www.facebook.com/daddyshomemadesyrup and www.instagram.com/daddyshomemadesyrups where we keep everything updated on events, specials and new flavors!