Conifer's signature summer festival focuses on celebrating the mountain lifestyle
July 24-25, 2021
A FREE Street Fair with music, vendors, food, games, and more all on Sutton Road


Elevation Celebration is a free community street faire the last weekend in July. Join us for Conifer's signature summer festival featuring the Elevation Run / Walk, live local music on two stages, a craft beer tent, beer garden and kid zone.  Fun for all ages! Follow us on Facebook for all the latest updates.
VIP Tickets Now Available
2021 Volunteer Registration: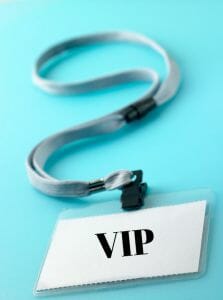 Be a VIP at Elevation Celebration!
Get out of the weather and under covered seating.  Enjoy complimentary beer, wine,  cocktails and snacks with the purchase of an El Cel VIP ticket. For $50 per person per day, you get access to both VIP tents located near the stages at either end of the event. Once inside, enjoy a short menu of free cocktails, snacks and a seat in the shade. VIP tickets are limited. Advance tickets are no longer available; Please check at the East ticket tent, near the Brooks Place Tavern beer tent, for availability day of event.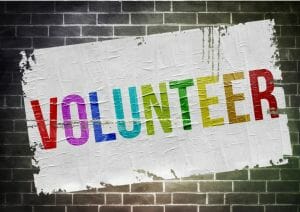 Calling All Volunteers!
We are looking for volunteers for various positions and times throughout the two day event.  If you are available to help out you will have a great time meeting new people.  All volunteers who volunteer at least one full shift will receive a volunteer t-shirt. You will also receive three event tickets per shift worked.
Please click here to fill out the registration form and we will be in touch.
Thank You to all of the 2021 Band Sponsors:
Elevation Celebration is "Going Green"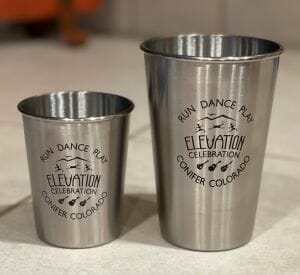 Enjoy a beer or other drink at one of the beer gardens and tents.  This year, you will need to purchase a stainless steel commemorative cup.  This will be your cup for the entire weekend, so remember to bring it back on Sunday.   The cost is $12, includes your first pour, and is a great keepsake item.
Sponsored by Conifer Gutter.
(Please refrain from bringing in your own food and beverages.  You'll enjoy the beverages offered in the beer tents and food from our vendors).
Race to do 20' 360 Bike Loops on the Double Looping Power Bikes!  The only power required is YOU! It is much more challenging than it looks as you are in control of the power to make the 360 Bike Loop! Make it a competition --- race against those in your group or keep trying to beat your own best time.
Event Parking and Shuttle Services
Jump on the shuttle, sponsored by Ride-Need a Ride???, to get to the event.
The shuttle will run in a loop stopping at the below parking locations and drop off points:
Parking/Pick Up:
West Jeff Elementary School - 26501 Barkley Road, Conifer
West Jeff Middle School - 9449 Barnes Ave, Conifer
Drop Off:
Aspen Park RTD Park & Ride at Conifer Rd.
Sutton Rd and Dallman Rd.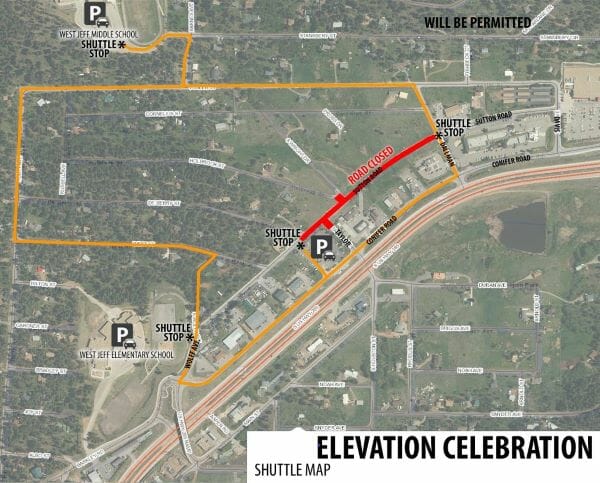 2021 Elevation Celebration Vendors
1st Colorado Roofing
92 Apparel
A Happy Place Travel
A&B Candles Co.
American Restoration
Asirys
Aspen Creek Veterinary Hospital
Aspen Park Montessori
Asplundh
Beaver Ranch Park
B-Leaf
Blue Leaf Design Build
Broke Girl Says
BustinoutArt
Butterflies & Moonbeams Face Painting
Campfire Evergreen
Cleaning Green 123 - Ruth Day / Norwex
Colorado Designed
Colorado Forestry and Fire Mitigation
Colorado Siding Repair
Colorado woo art
Conifer Candle Company
Conifer Radio
Conifer Touchdown Club
Corbeau Academy
Cornerstone Auto Glass
Cutco Cutlery
D. B. Maes World Images
Daddy's Homemade
Denver Amramp
Dhana's Designs
Dreamstyle Remodeling
Elemental Smoke Bbq
Elk Creek Fire Department
Ernie's Mountain Bakery and Cafe
Evergreen Audubon
Foothill Flyers
Friends of Mt. Evans and Lost Creek Wilderness
Generations Skincare LLC
Grainyard Woodworks
Handmade Navajo Jewelry
Hometown Sustainables, LLC
Intentional Ripples
Intermountain Humane Society
Jefferson County Public Health
Journey Roofing
Kona Ice 5280
LeafFilter North, LLC
Lifetime Windows and Siding
Luna's Mandala
MEC Vintage Posters
Momma's Owl Nest
Mountain Metro Association of REALTORS
Mountain Resource Center
Mountain Women in Business
Passanante's Home Food Services
Peak Educational Services
Phoxphotos on Saturday
Pampered Chef/Dawn Avery on Sunday
Red Rocks Toffee Company Ltd.
Renewal by Andersen
Rocky Mountain Wraps
Rotary Club of Conifer
RPM Agency Insurance Brokerage
Sandra Clark Fine Art
Sano
Seek Dry Goods
Slife's Devil Dogs and Sweet Freeze Shave Ice
StageDoor Theatre
Sunrun
Suz Cookie Jar Rescue
Taspen's Organics and Dragonfly Botanicals
The Collective at Madison & Company Properties
The Law Office of Dual C. Schneider, LLC
The Nature Link LLC
The Thompson Group
TuRNing Point Health & Wellness Transformations, Inc.
Valor Roof and Solar Inc
VFW
Elevation Celebration Run / Walk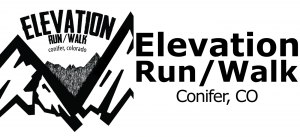 Support two wonderful community organizations by participating Elevation Run/Walk:  Conifer Lobos Unified Boosters:  CLUB and Conifer Area Council.
Click HERE for more information and to register. 
Check out the HOT DEALS offered by our members!
for awarding the Conifer Area Chamber of Commerce with "The People's Choice Award" for the Best Summer Activity or Event.
---
Cart Sponsors (Drink/Utility/Shuttle)
Kids Zone/Kids Stage Sponsors
Volunteers T-Shirt Sponsors